ProTexting now offers Twilio integration, which provides access to a variety of functionalities for SMS marketing and communication. Twilio is one of the leading developer platforms for communications such as voice, messaging, and video. It's used by global companies such as Airbnb, Lyft, and Netflix as well as many smaller businesses and developers. ProTexting clients who also use Twilio can now enjoy the combined benefits of these two platforms. Twilio clients can easily bring and plug-in their long or short codes into the ProTexting messaging platform.
What Can You Do?
Simply plug-in your Twilio long code virtual number to start using the beautiful and robust ProTexting platform and interface.
Get access to over 50 interactive features - Group SMS & MMS messaging, run text messaging drip campaigns, Text 2 Win, Text 2 Join, SMS voting, Text 2 Screen, and many others
Instant plug-in - It takes just a few minutes to set up your account and activate your Twilio long virtual numbers in ProTexting.
It works with ANY Twilio number, regardless of country. Support for multiple numbers in different countries.
Integrate with your Amazon Seller's account, using text messaging to help you boost reviews and sales.
Worldwide SMS coverage, with support of 2-way messaging in over 40 countries.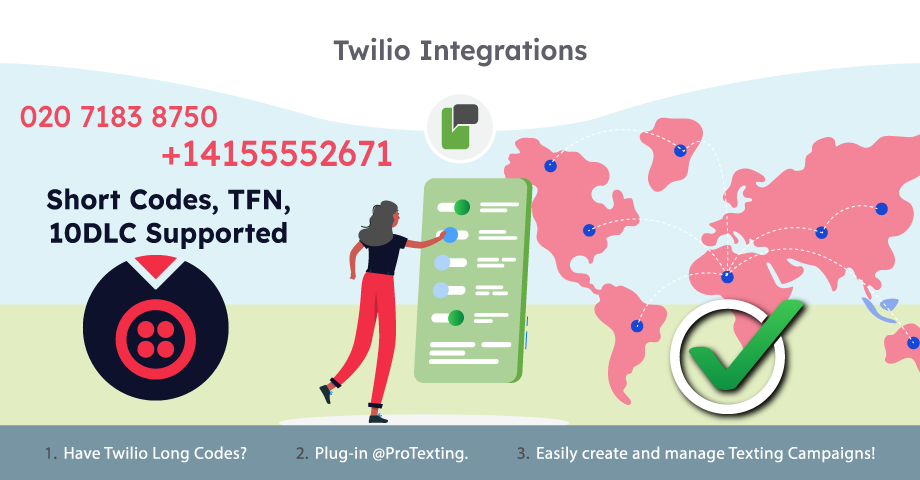 ---
Why ProTexting?
With over 16 years in the messaging industry, ProTexting has evolved into one of the leading platforms on the market today.
Many features and apps to run any type of text messaging marketing and communication campaigns.
Automate your mobile marketing with scheduled Auto-Replies and lots of other automated texting features.
Easy and instant setup.
RESTful Messaging API.
Amazing customer support with direct phone support and guidance on best mobile marketing practices. Assistance with SMS marketing campaign setup, monitoring and constant advise on improvements.
Interactive features to engage your audience and clients, boost revenue and increase customer loyalty.
* no commitments, risk-free, instant access