Now You Can Throw Those Cardboard Business Cards Away!
With a virtual business card delivered by text message, you will never run out of business card again. From now on, when someone asks you for a business card, you just tell them to text your name (SMS keyword) to one of our short or long codes, which will be assigned to your account, (example: 41242), and your vCard will be immediately send to their phone. The recipient can then easily save it as a standard electronic business card in .vcf format. The file is compatible with Outlook, Apple Mail, iOS, Android and any other platform that supports electronic business cards. In addition to the .vcf file, the recipient will receive additional info in the SMS, such as:
Name
Phone Number
Email Address
Website
Social profiles
Up to 320 characters, now supporting multi-part LONG SMS 🙂. In case your business card contains more info than could fit into the character limit, the additional details could be placed into an additional web page as part of the V-card via our
Short URL APP
, also provided within the ProTexting platform (FREE of charge). Our
Messaging Short URL
provides amazing tracking of who and when clicked on the link, so you can follow up with your clients and leads.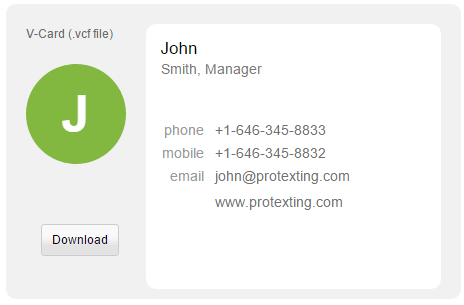 By setting up your virtual business card or your team's business cards via text message, you will be able to easily manage, make changes quickly, reply quickly and engage in conversation via SMS inbox and stop wasting money on printed cards. This great service – business cards via text message sent to your mobile phone - has been utilized by many companies and brands, and it is one of our top messaging products!
In addition to providing your contact information to your customers and prospects in a totally new and innovative way, you can also set this up so that you can capture their mobile phone number at the same time. Now you can send a new v-card to everyone in your contacts list whenever you update any piece of information. All done easily and quickly! With just couple of clicks, your new virtual business card can be sent to all contacts that have requested it (texted SMS keyword). Plus, you now have the ability to send text messaging campaigns to them anytime you choose to do so. In addition, by having your clients, vendors or collegues text-in your personal SMS keyword, you will be able to run Drip Text Campaigns or SMS Sweeps to boost engagement and loyalty. If you'd like to learn more about the v-card format, click here to access the Wiki page »
It should be clear by now that you can easily and quickly distribute your business credentials via text messaging, which also brings along a few more benefits:
Organize all of your professional contacts in one place
No more paper equates to being more eco-friendly
Build links to other professionals
Eliminates the old "get lost or thrown away" cardboard cards
Keep track on who requested and viewed your business info
Instant update on all of your contacts when you change your info
* no commitments, risk-free, instant access