SMS autoresponders are simple text message interactions between you and your clients. People are invited to send a text message with a keyword you choose to a short code (for example: 41242). Once they text in the keyword, they will receive an autoresponder with a welcome message, call to action or alert about your brand, service or any communication you'd like to have with your current and potential clients. By utilizing autoresponders in your Text-To-Join SMS marketing campaigns, you will be able to build a database of subscribers, and later target them with promotions or special alerts about events, emergency occasions, etc. Majority of our clients use the auto-responder (SMS and MMS) or auto replies for their "Text-to-enter" messaging campaigns to collect phone numbers and emails, which is included in all ProTexting plans.
This is how it works:
Let's say you pick the keyword: HAPPYHOUR - a bar/nightclub owner might invite their customers to text HAPPYHOUR to 41242 to receive a coupon with special offer. When they do, the venue will collect their phone numbers, and subscribers will immediately receive their auto reply messages – example: "Thanks for joining our mobile club! Show this to your server and get 2 for 1 drinks all night. Reply STOP to end." From that point on, the bar owner has the mobile numbers of the people who texted in. Later, with their permission, they can send a mass text message to all subscribers to invite them to a special event, happy hour promo, or anything that will boost their business.
Another example, let's choose keyword: MYTSHIRTS – This keyword is perfect for a store that sells T-Shirts. They can have posters in the store that tell customers to text MYTSHIRTS to 41242 if they would like to receive special offers, exclusively sent to people who text in. When they do, they will get a message, something like this, "Welcome to our T Shirt VIP program. Promos and specials from My T Shirts will soon be coming your way! Reply STOP to end."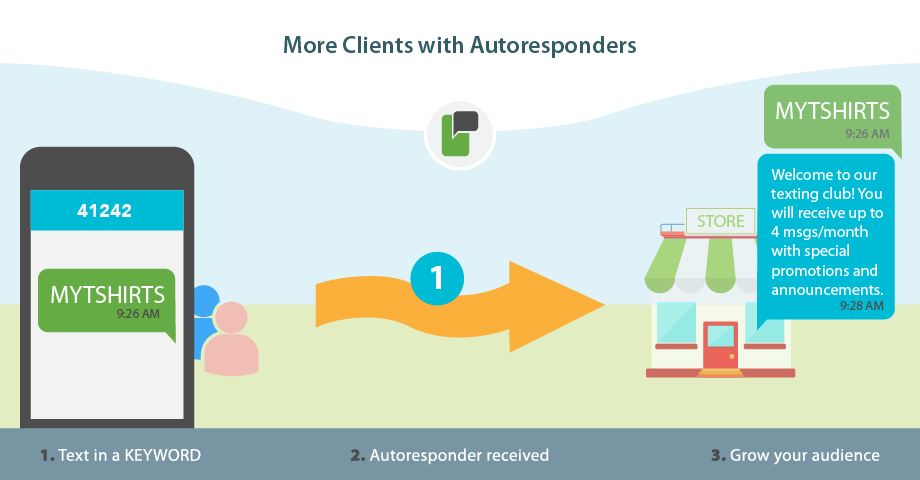 SMS and MMS messaging Auto-responders are great way to deliver any news, updates, promotions and alerts to targeted audience for any organizations. This is a super easy process to collect mobile numbers, build your clients and leads. By having their mobile numbers in your account, you can constantly keep in touch with your audience by sending them updates, news, promotions, notifications, engage them in interactive messaging campaigns such as Drip Campaigns, Voting, Surveys, etc. Our customers have been using autoresponders for years, and they see huge growth on their business and ROI. It's easy and quick to setup. Just pick a keyword, matching your brand or company name, and set a text message or MMS as the auto-reply. Once set up with your ProTexting account, all is run on auto pilot. Below, you can find examples of where to promote your SMS keywords so that people can subscribe to your list:
Social media – Facebook, Twitter, Instagram, etc
On your website or blog
Billboards and TV commercials
In store via posters, cards or just ask your clients to text in the keyword
At live events (on screens) – you also may awant to checkout our SMS to screen app, utilized by many brands for their live events
Email newsletters
... and other way you can show to potential clients your KEYWORD and SHORT CODE to text in.
Setup sub keyword auto-responders to follow the conversation of your main text message keyword.
Holiday and Closed (after hours) Smart SMS Auto-Responders – This feature will send alternative SMS if business is OFF-HOURS (closed) or during holidays. Holidays can be set dynamically by choosing date range. Perfect for companies that close on weekends and holidays. In the text message you will be able to add short URL, data tags, emoji and long SMS.

---

Looking for scheduled auto-replies text messages? This feature will allow you to send different auto-responders based on time and days.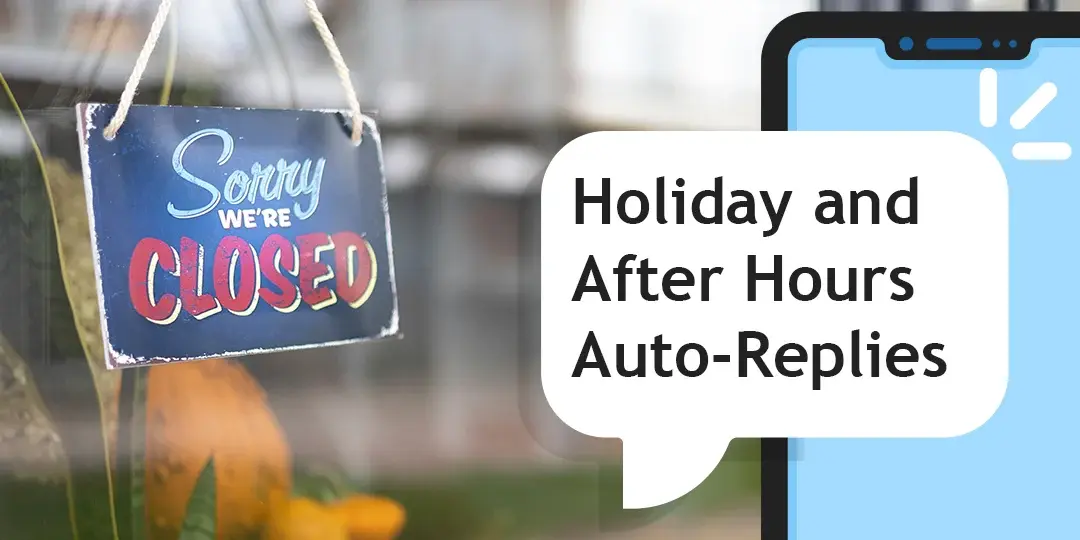 Ready to start building leads and new customers utilizing an auto SMS repsonder?
* no commitments, risk-free, instant access