What Are Mobile or SMS Keywords?
One of the new terms you'll begin hearing more and more in the mobile marketing world is "mobile keyword", "sms keyword" or "text keyword". A mobile keyword is a single word that can contain letters or numbers and is picked by a business as the word to be sent via text message to a short phone number called a "short code". The purpose being that the person sending the keyword is volunteering to join a text messaging list or enters into an interactive SMS campaigns.
Mobile keywords are unique per Short Code and each keyword is associated with a brand or certain campaign. ProTexting provides instant access to mobile keywords with each plan, and you can check availability by using our reservation form
How can Text Keywords be used?
Do you need more leads? Or maybe you need more client's data?
Mobile keywords are the perfect marketing tool to start interacting with your audience immediately. Once you register an account with ProTexting and reserve your keyword, matching your brand or company name, you can start promoting and asking people to TEXT in your Keyword to join your list. Here are the steps to start his process:
Get an account @ ProTexting
Reserve your keywords (instantly done)
Promote your keyword via Social Media, Website, Printed Materials, TV and Radio commercials, Billboards, Brochures, Podcasts, eBooks, Sweeps Campaigns, etc.
Build your customers' database
... and then later, send alerts, promotions, greetings to all of your clients.
... or enter them into a DRIP SMS Campaign, which is a unique way to boost your sales and brand recognition.
And now supporting EMOJI Keywords 🙂 🤣 😉 Let your audience text in an EMOJI, instead of a text keyword. It's really cool! The app is FREE and can be activated easily from the marketplace.
Create sub keywords to follow the conversation of your Main SMS Keyword with sub keyword auto-replies .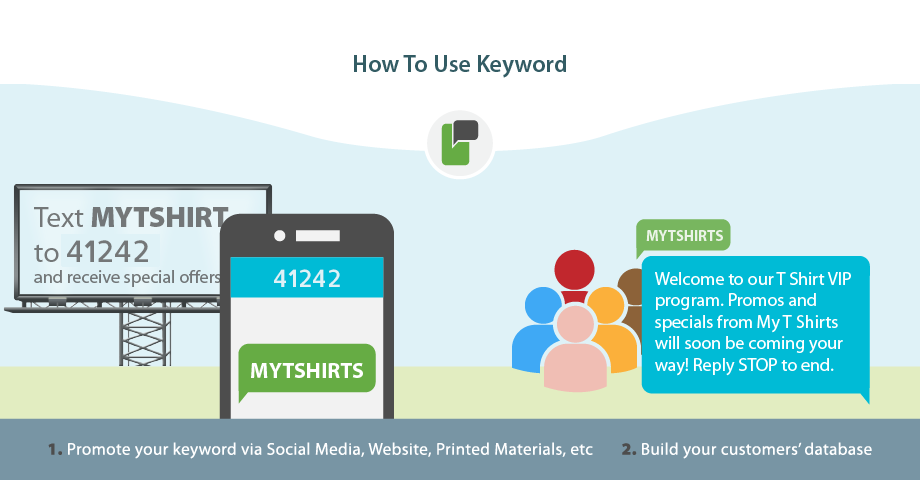 * no commitments, risk-free, instant access