Shopify is the leading e-commerce platform with millions of online shop owners worldwide. Countless businesses of all types are setting up Shopify online e-commerce stores to sell every variety of product. Some of these are new businesses created from scratch while others are older enterprises wanting to expand their reach. To help these businesses, ProTexting provides a Shopify App for SMS Notifications and overall SMS and MMS Marketing campaign management.
Add the Shopify SMS Marketing App here »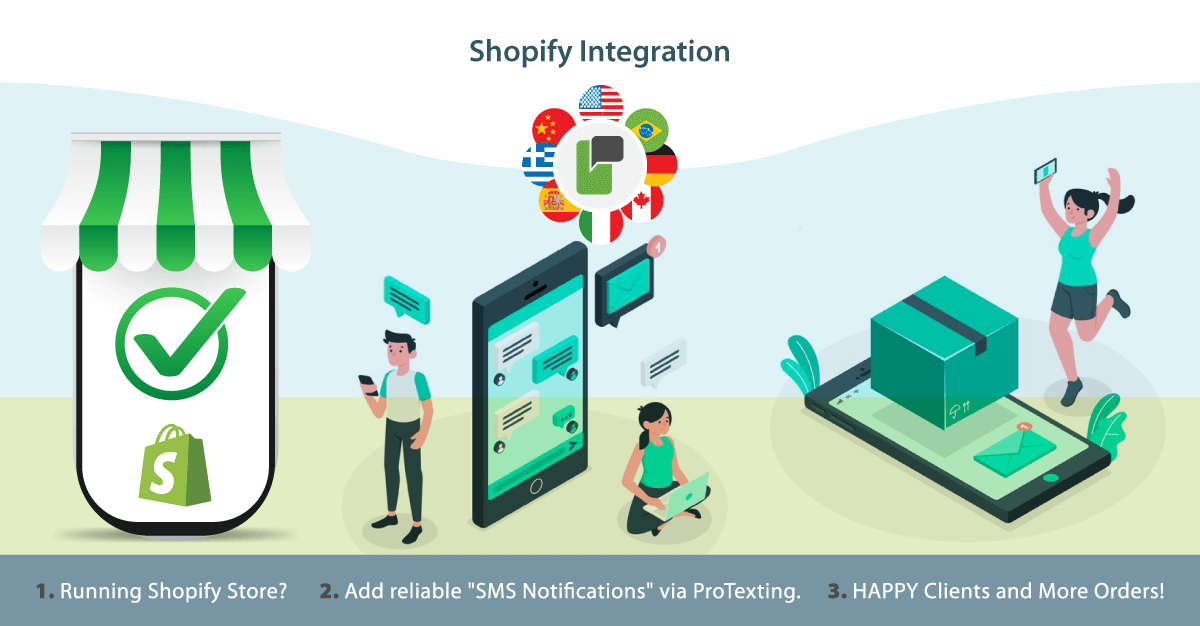 ---
What Can You Do?
Easily accessed within the Shopify interface. Just search for the "ProTexting" app in the marketplace or click to here to access and install the SMS notifications app for your Shopify online store.
Send SMS notifications to update customers on order status.
Abandoned Cart SMS Alert - In case your Shopify clients are not finalizing their orders, you can setup automatic text message reminder and invite clients to finish their orders. In the forgotten Shopify shopping cart SMS reminders, you will be able to add discount codes to increase conversion rates. This feature also provided great stats on total sent SMS, completed orders, success rate and total revenue.
Notify customers when orders are received, shipped, canceled, partially filled, refunded. SMS notifications will be sent to the shipping mobile number. If missing or not entered, it will be sent to the customer number.
Create SMS Keywords and Text Message sign up forms to embed in Shopify store. Easy and Quick setup, which will provide a way for your customers to sign up for SMS and MMS alerts and notifications.
Inform customers about new products, special promotions and run interactive SMS messaging campaigns.
Send out coupons and promo codes via SMS.
If you'd like specific orders NOT to receive SMS notifications when an order is updated, please use Order Tags and add the tag "skipsms". This is a great feature for processing POS or manual orders that SMS notifications should be skipped.
Access to all ProTexting features, outstanding support, technology and worldwide coverage.
Add Text Messaging App to Your Shopify Store »
The Shopify App lets you combine the power of e-commerce with the massive popularity of text messages. Sending your customers text messages can amplify your marketing, giving you a way to reach them even if they aren't online at the moment. Compared to email, text messages have an extremely high open rate (close to 98%).

ProTexting clients have access to a large number of apps and features, including:
Send group SMS messages to multiple customers.
Text Message Drip campaigns - Send a series of messages on a schedule such as daily, weekly, or whatever works best.
Integration with Zapier, MailChimp, Google Calendar, Amazon Sellers Messaging, and many other apps.
Set up contests that your contacts can enter by texting in a keyword. You can tie this in with your Shopify store (e.g. give away a product you're selling).
Send coupons for your products via text message.
Benefits of ProTexting
With over a decade in the messaging industry, ProTexting is one of the leading providers of mobile marketing services. The ProTexting text messaging platform has been the choice of thousands of businesses.
Easy and instant setup.
Text messaging works for any type of business. Our clients are in every imaginable industry.
Create automated campaigns with scheduled auto replies.
Apps to help all kinds of businesses engage with their customers. Many interactive features to encourage customers to stay engaged.
Amazing customer support.
Instant access to sender numbers.