Questions? We have answers.
Send Text Messages From Your Own Dedicated Local Number
US Mobile Carriers have recently introduced a new type of text number, called 10DLC, which lets you use your own dedicated local number to send out a high volume of text messages.
Continue to enjoy all the features available with short codes
10DLC is a fraction of the cost of a dedicated short code
Personalize your text number or text-enable an existing voice or 800 number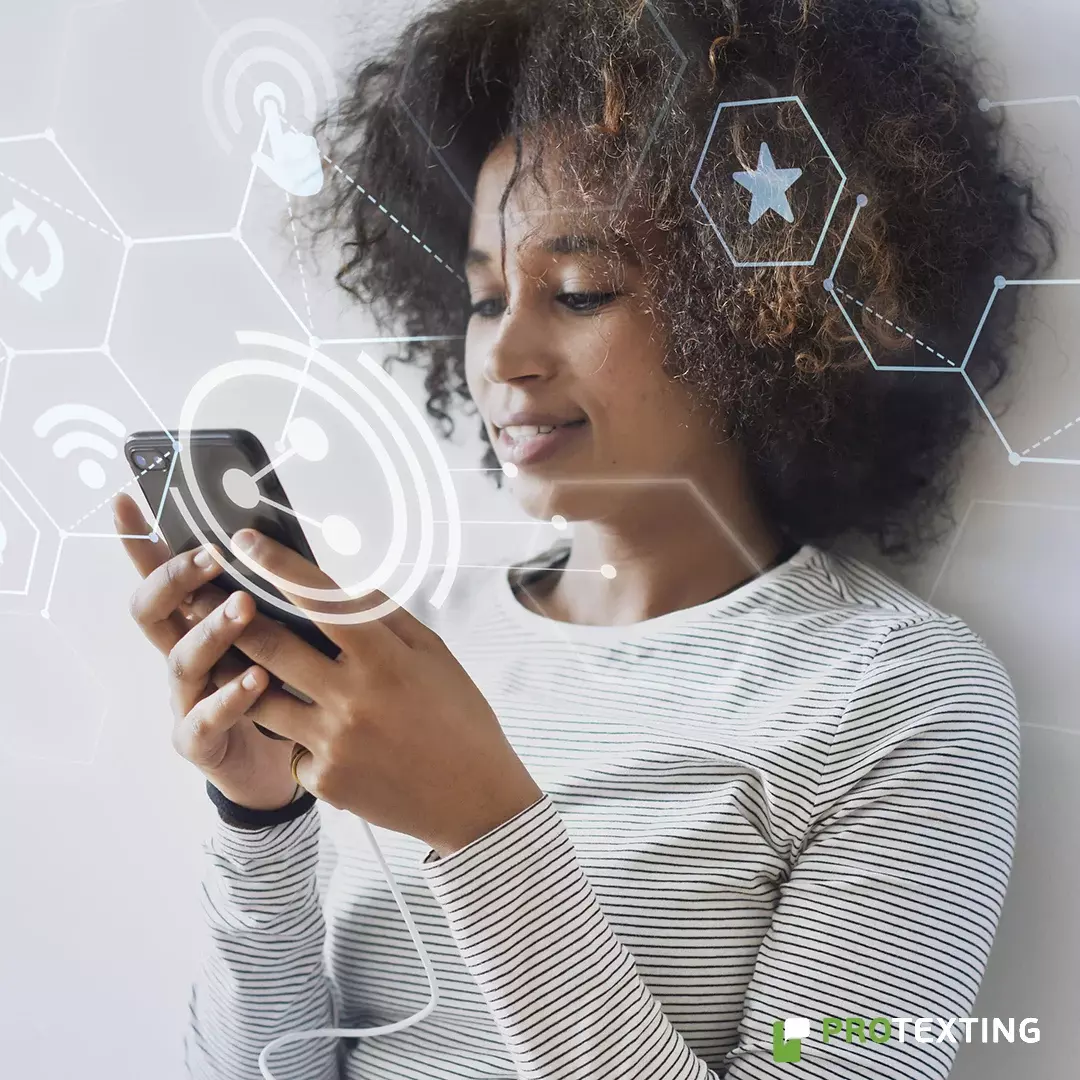 An Introduction to 10DLC
For the last 20 years, most businesses that wanted to send automated texts to customers used shared short codes. These are convenient numbers that let people text you with 5-digit numbers such as 12345. However, carriers are no longer permitting shared short codes for business texting. Nor are they allowing traditional P2P long codes, which are 10-digit numbers created for P2P (personal) rather than business use.

The good news is that there's a new type of long code made especially for A2P (application to person) use. It is called 10DLC (stands for 10-digit Long Code). Not only is this a practical and affordable alternative to short codes, but it's the new standard as carriers are phasing out shared short codes and P2P long codes.
What Are the Benefits of 10DLC?
There are several advantages to using a 10DLC number.


It's a dedicated number that no one else can use.


Cheaper to use and many times faster to set up than short codes. Takes about 4-8 days.


It is more personal. The message is delivered via a normal looking mobile number. People may react more to such messages.


You can choose a prefix (area code) and the messages are being delivered from a local number. One more personalization touch.


Because it's a personal, dedicated number, you'll have access to all the keywords you can think of without worrying if anyone else has claimed them.


Carriers approved numbers for your brand. Avoid losing traffic by using shared short codes and long numbers. You fully control the "health" of your dedicated 10-digit long codes.

A Clear Guide on How to Obtain your Dedicated 10DLC
The number one thing to remember is that ProTexting team will help from start to finish.
Obtain your 10DLC

Our team will help you submit your application with the mobile carriers. You fill out a simple form and let us do the rest. It takes about 2 business days.
Increase your Trust Score (Optional Step, if needed)

For many business going through the initial application, the trust score maybe higher than expected and provide more than enough daily message allowance. This is why we recommend first going through the free approval and scoring process. If you need to increase your daily message limit, you can go through a 3rd party vetting and possibly obtain a greater trust score. We can always go for it after you have your 10DLC. The ProTexting team will help with that too.
Choose your Area code or Text-enable an existing voice number

One of the advantages of 10DLC is that you can chose your area code for more local messaging number or text-enable an existing voice or 800-number.
YOU are done! It takes only about 4-8 days and once your new 10DLC is attached to your ProTexting account you can enjoy all the features available on a short code.
10DLC compared to the other Alternatives
With so much confusion around the different text numbers available to our clients today,
we thought it would be useful to show how each texting number compares to the rest.
| Text Code Type | 10DLC | Shared Short Codes | Dedicated Short Codes | Text-Enabled Toll-Free Numbers |
| --- | --- | --- | --- | --- |
| Throughput of Messages per Second | Midium to High | High (No longer allowed) | Very High | Medium |
| Allowed by Carriers (A2P Messaging) | Yes | No | Yes | Yes |
| Supports Voice Calls | Yes | No | No | Yes |
| Pick your Own Local Area Code | Yes | No | No | No |
FAQ About 10DLC and SMS Mobile Marketing
What are P2P and A2P Messaging?
P2P is person-to-person, which is non-commercial messaging. A2P is application-to-person, which is an application sending automated messages to individuals.
How is 10DLC different from short codes?
Short codes are 5 or 6-digit numbers that are created for automated texting. They can be shared or dedicated. 10DLC numbers have 10 digits like traditional cell (and landline) numbers. All 10DLC numbers are dedicated (unique to one business).
How is 10DLC different from traditional long codes?
Long codes were originally created for P2P and not business use and carry many limitations, including a maximum of 200 messages per day. 10DLC is approved by carriers for A2P or business use and has at the very minimum 2,000 messages per day and with a higher trust score this allowance may increase to 200,000 messages per day.
When will 10DLC be available?
Carriers are rolling it out in the early months of 2021. It may be in use by the time you read this. The deadline to switch to 10DLC (or dedicated short codes) is June 1, 2021.
Will 10DLC soon be the only option for text message marketing?
No. Carriers are doing away with shared short codes and traditional long codes. However, dedicated short codes are still permitted. These, however, are quite a bit more expensive than 10DLC. Businesses also have the option to use toll-free numbers.
Are trust scores mandatory? How do carriers assign them?
Not all carriers demand trust scores. Whether you need to submit one may also depend on your industry and the types of messages you send. For example, certain topics, such as credit repair, are considered high-risk for spam. A low trust score doesn't necessarily mean you can't use SMS services but it may limit the number of messages you can send.
It's Time to Migrate to 10DLC
US Mobile Carriers have announced that by June 1, 2021, every brand must transition to either a dedicated short code or a dedicated long code (10DLC). ProTexting is here to assist you with a smooth transition. Features and capabilities of the system do not change. You will be able to setup the same flows and campaigns that you would have setup using a short code.

The process takes about 4-8 Days.
We will notify you as soon as your Dedicated 10-digit Long Code is ready and attached to your ProTexting account.
Do you need a Dedicated Short Code?
If yes, our team can certainly help from start to finish.

Ask us about a Dedicated Short Code for your company.

We are here to help. For any additional questions, please