| | |
| --- | --- |
| API - Coupon Codes Management | |
With the Coupon Codes Management API, you can easily manage all of your coupon codes programmatically, and run successful text message marketing campaigns. All the main operations are available; list all, view single coupon code, add, remove, edit, list coupon codes by number (sent SMS with promo codes). Additionally, you can manage all your Custom Coupon Code Tags with ProTexting's RESTful API.
Get More from SMS Coupons and Promo Codes
Coupon codes are a powerful tool for connecting with customers and generating more sales via SMS campaigns. A coupon code sent via text message provides instant value to your contacts. When you use coupons regularly, it's helpful to have an efficient way to manage them. With the Coupon Codes Management API, it's simple to create, edit, and send coupons.
Text Message Coupon Codes Boost Customer Engagement
Coupon and promo codes can be used by many types of businesses. They're especially valuable to online stores and e-commerce sites using platforms such as Shopify and Amazon Seller Centra. Your customers are always glad to save money on the products they're already shopping for. Promo codes can also be used by restaurants, retail stores, spas and salons, fitness centers, and many other businesses to motivate customers to take action to grab special deals. When you offer coupons, however, it's important to be able to manage them: create and delete them, make edits, keep track of multiple offers, etc. That's where the Coupon Codes Management API comes in.
How Coupon Codes Management Works
You can add and manage coupon codes from your dashboard with our new API. Coupon codes can be automatically inserted in each auto-reply text message via the tag [COUPON] or create your own unlimited custom coupon tags to segment the different promotions that you are running. This makes it simple to set up coupon codes for your customers and create them for as many products as you want.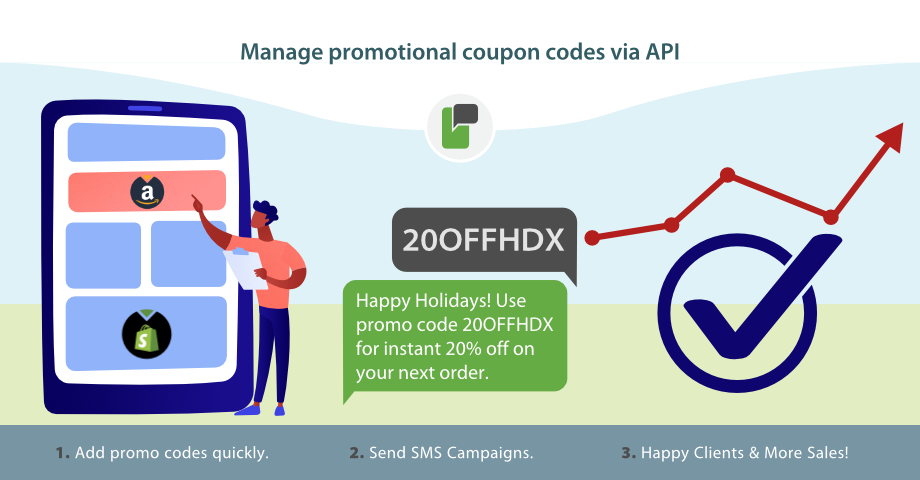 Benefits of Managing Coupon Codes
With the ProTexting Coupon Codes Management API, you can begin or boost your strategy with coupons and promo codes.
Create targeted coupons for individual products and types of customers.
Easily add and manage the promo codes via API.
Coupon codes can be created for many purposes. They can provide a discount on products, 2-for-1 offer, free shipping, a discount on future orders, etc.
Manage coupons during busy shopping times such as the holiday season.
Coupon codes help you increase revenue as they make your offers more appealing.
People tend to open text messages quickly, making SMS marketing an effective strategy for getting customers to make spontaneous buying decisions. A coupon or promo code helps to make up their minds.
Promo codes are effective for tracking the results of marketing campaigns. With unique promo codes, you can easily measure the responses for each campaign.
If you use coupon codes or plan to use them, it's important to be able to manage them and keep track of your efforts. The Coupon Codes Management API helps you make the best use of your coupon codes so they're an even more effective tool for growing sales and your business.
* no commitments, risk-free, instant access