| | |
| --- | --- |
| API SMS Keyword Management | |
ProTexting has released a new RESTful API that makes it easy for clients to reserve and manage all of their SMS keywords.
Features include:
List Keywords
Check Keyword Availability
Reserve Keyword
Remove Keyword
Benefits of Text Message Keyword Management
SMS keywords are central to mobile marketing campaigns. With keywords, you can set up any type of function where users activate the campaign by texting a certain word. You may be running multiple campaigns and using a variety of keywords. Our Keyword Management API lets you easily manage everything.
Check and reserve text messaging keywords. Quickly find out if a keyword is available. If so, you can reserve it to use in your campaigns. Promote keywords on your website, social media, printed materials, flyers, radio and TV ads, etc.
Add or remove keywords. You may want to set up new campaigns and delete old ones. For this, you'll need to edit your keywords via the API. Easily remove and add new SMS mobile keywords with simple API call.
Keywords encourage customers to respond to your offers. They can type in easy to remember letters or words rather than a full phone number. ProTexting even lets you create emojis for keywords!
Set up automated campaigns for any purpose. You might have keywords that let customers get information about your hours or upcoming events, for example. You might set up a campaign such as "Type in keyword XYZ to receive a promo code." You can also set up keywords for customers to enter text message contests, polls, or SMS/MMS drip campaigns (where customers receive a series of messages).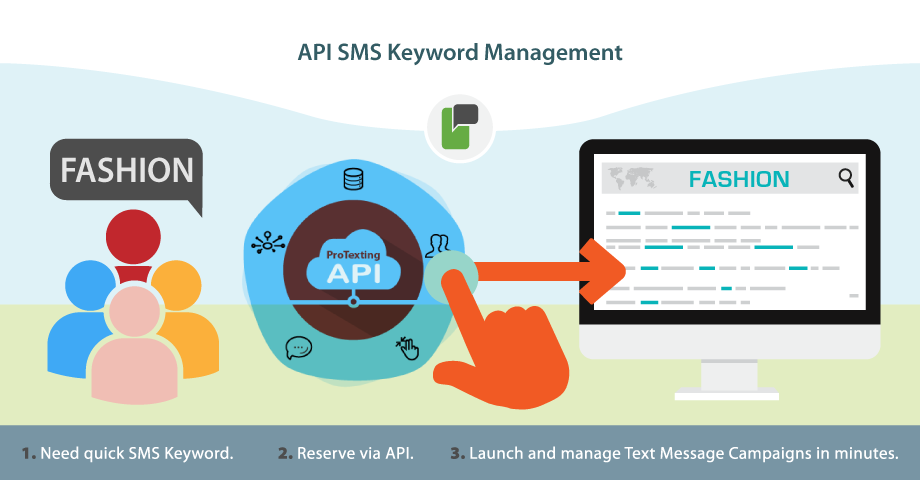 The Keyword Management API makes it easy to create and manage all of your keywords.
* no commitments, risk-free, instant access