| | |
| --- | --- |
| Mobile Text Surveys & Text Voting | |
How Mobile SMS Surveys and Voting Can Improve Your Marketing Campaigns
One of the best ways to know how to better serve your customers and clients is by getting feedback from them. This is usually accomplished with a survey or a vote. That means that you will most likely be using the telephone, direct mail, or email, telephone to gather the data, and only after you tally the votes, will you see the results.
Text messaging has changed the game. Research shows that 85% of people over the age of 15 carry their cell phone with them at all times. That means that businesses large or small can do mobile surveys in real time and get instant results. You're no longer restricted to direct mail, email, or the telephone.
Armed with the tools to conduct text surveys and text voting gives you the ability to get access to valuable demographic data about your customers and clients. By allowing them to express their preferences, you can now shape your marketing campaigns to their likes and dislikes.
SMS Web Surveys
Surveys allow you to send out a set of related questions. This can be designed to gather information about your customers' experience in your business, or their preferences. We can set up several different mobile survey campaigns:
Mobile web survey, where participants fill out the answers on their mobile browsers.
Text Message Survey Software, all questions require text message response. Based on answers, certain questions can be skipped.
Mixed – SMS & Mobile web survey – where participants can choose which survey to take.
Rating – participants can rate several different questions. This is prefect solution to ask for feedback.
All of our solutions can be bundled with data capture and follow up campaigns, based on clients' data segmentation.
In addition, at end of campaign, all participants can be automatically entered into a text messaging drip campaign. By creating a SMS or MMS drip campaign, you can run more surveys in the future, ask for feedback or simply send "Thank you messages" to all text message survey participants.
SMS Voting
SMS voting is a little different. It is a message that asks a user to provide feedback or reply with a choice of several options. After the recipients reply with their responses, they can then be further targeted with follow up messages. They can even be segmented into groups based on their choices.
This is an example of SMS voting campaign setup and results:
INSTRUCTIONS: Text MIKES to 41242 to vote for your favorite Barbecue Sauce!
WELCOME TEXT:
Frank's Pizza wants to know your favorite sauce.
Reply 1, 2, 3 or 4.
1. Plain
2. Moderate
3. Spicy
4. Flame Burner
THANK YOU TEXT: Thank you for participating. Pls show this message next time you eat here and receive a free beverage with our meal. Code: OCT#9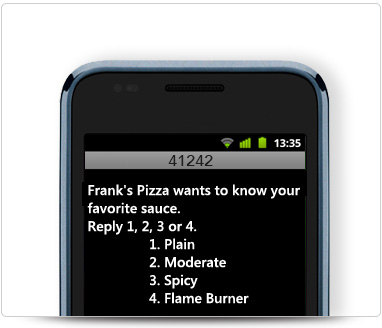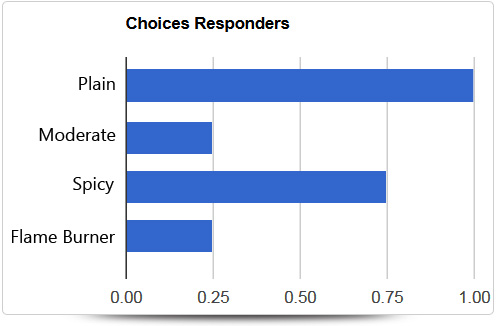 Mobile text messaging surveys and SMS voting can provide extremely valuable information - just look at how polls are used in the political arena. When taken seriously and used wisely, the results should translate straight to your bottom line. Whether you need to get your business out of a slump, you want to expand, or you just want to make more sales - text messaging is a very cost-effective way to help you accomplish those goals.
If you are currently researching the ability to send a text SMS survey to your new customers, hires, employees, co-workers, vendors, patients… ProTexting is the platform to sign up at. One of the functionality of the Web Survey is to send an embedded link via text message. All questions and answers will be conducted via a mobile optimized web page. In addition, the "Text Surveys & Text Voting" app has an active and engaging survey options, with several text in questions. Participants can answer using emoji's or reply system by sending back SMS with choice #. ProTexting has the capacity to accommodate interactive Text Messaging Surveys and Voting campaigns.
Need to run a quick SMS messaging poll? Direct Keyword Voting is an amazing text messaging app. The campaign is set with Text 2 Screen page showing REAL time results. SMS Screen results page is optimized for any size screen - from mobile, Led video TV to large arena screens and scoreboards. Contact us for information on how to setup.