A powerful new feature now lets you set up a particular auto-reply messages to be sent within set intervals of time regardless if a new or existing subscriber texts in your keyword.
Features of Scheduled Auto-Replies
Set up targeted messages that match your content delivery schedule. For example, if you want to promote special events or promotions in the coming months, you can schedule a different message to go out in March 2020, April 2020, etc.
Schedule your messages by dates and time ranges. You might, for example, set up a date range of March 15, 10 AM to March 30, 5 PM for one auto-reply, a new date range for the next and so forth.
Clients can receive different messages using the same keyword, depending on at what point in time they use it so you can set up time-particular messages to be delivered accordingly.
Set up a default auto-reply when the date doesn't match any of your start/end date ranges.
International coverage, emoji included, LONG SMS, Short URL tracking and MMS support.
Easy and quick setup with just few clicks. Once setup, leave the text messaging campaign on autopilot.
Now you can schedule auto-reply messages to be delivered at specific times in the future.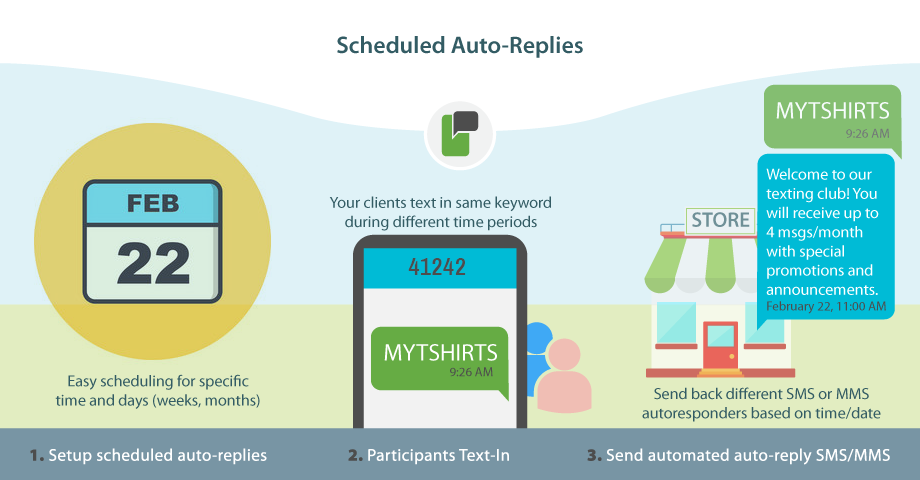 Ways to Use Scheduled Auto-Replies
There are quite a few ways that Auto-Replies can help make your SMS campaigns more time-appropriate and efficient.
If you have a retail business that sells seasonal products such as clothing you can set up auto-reply campaigns in advance that promote the appropriate products and sales. Similarly, if you're in a sports-related business you can send out messages about sports gear that are in season.
Restaurants, using text message marketing, with seasonal menus and events can schedule messages in advance so customers receive the appropriate promotions. Restaurant owners can also set up quick menu order by asking customers to text back a menu choice number (example: from 1 to 5). Ask our team on how SMS ordering can be setup for your venue.
Nightclubs, comedy clubs, or bars can schedule timely messages so customers find out about the latest events when they use the right keyword.
Send SMS coupons along with your auto-reply messages that are redeemable during the date range you've set up. This gives clients an incentive to take action such as visit your store, book an appointment via SMS, or attend your event.
You can send more than just text. There's also support for MMS (photos and videos), emojis, Short URL, data tags, and Long SMS, which will boost your texting campaign performance even more.
Organizations that hold events such as schools, social & religious organizations, and nonprofits, can schedule timely messages. You can schedule your SMS auto-reply messages weeks or months in advance to reflect your calendar of events.
The above are just some examples of how businesses can benefit by setting up scheduled Auto-Replies. Anyone who schedules different events, sales, or product releases can make their lives easier by scheduling replies in advance. Of course, if your schedule changes for any reason you can always edit the times and dates.
Our scheduled auto-reply app is one of many ways for you to automate your marketing and send out targeted messages to your customers. Use it whenever you want to schedule messages to go out at a specific time.
* no commitments, risk-free, instant access