| | |
| --- | --- |
| SMS Appointment Reminders with Google Calendar | |
Remind your customers of their appointments. Reduce missed appointments. Google Calendar Integration.
Missed appointments cost businesses thousands of dollars every year! If you have any type of business where customers make appointments, you know how inconvenient it is when people simply forget to show up. You can always call or email them, but now there's a better option with a new Protexting app: send SMS text messages to your clients!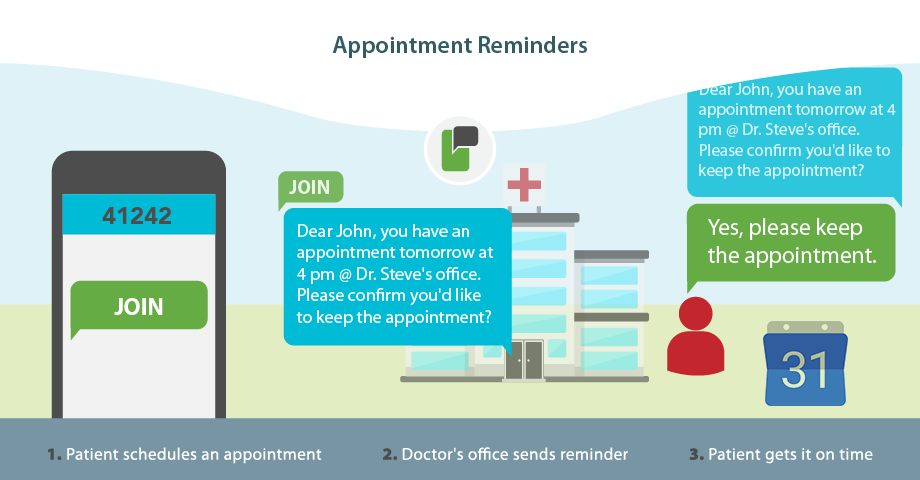 Ideal for spas, salons, and medical practices. If you have a restaurant or nightclub, you can send texts to remind customers who have made reservations. Text reminders are useful for any business where clients make appointments.
Get more responses. People read text messages at a very high rate. They may ignore emails or let phone calls go to voicemail. But 98% of text messages are read!
Integrated with Google Calendar, which lets you sync all calendars and reminders into ProTexting. You can view all reminders on your ProTexting platform or on Google Calendar.
Cut down on missed appointments, late appointments, and last-minute cancellations as your clients get timely reminders as the appointment approaches. When people can't make the original appointment, they may reschedule after receiving a text reminder rather than just not showing up.
Frees up time for you and your staff. You can spend less time on the phone by setting up SMS appointment reminders. When you text instead of all, you also avoid interruptions that happen when clients call you back.
Fill gaps in your schedule. When you improve communication with clients, you'll know about cancellations sooner. This gives you the chance to fill in any gaps. When clients cancel, send texts to other clients and offer them a last-minute special.
The ProTexting Appointment Reminder app helps you communicate faster with your customers and reduce the problems of missed appointments. Millions of people already use Google Calendar for scheduling and keeping track of appointments. With our app, you can now connect your SMS messaging to Google on all your devices for greater efficiency and convenience.
* no commitments, risk-free, instant access