| | |
| --- | --- |
| Communication with Your Patients and Appointment Alerts with SMS and MMS for Your Medical Practice | |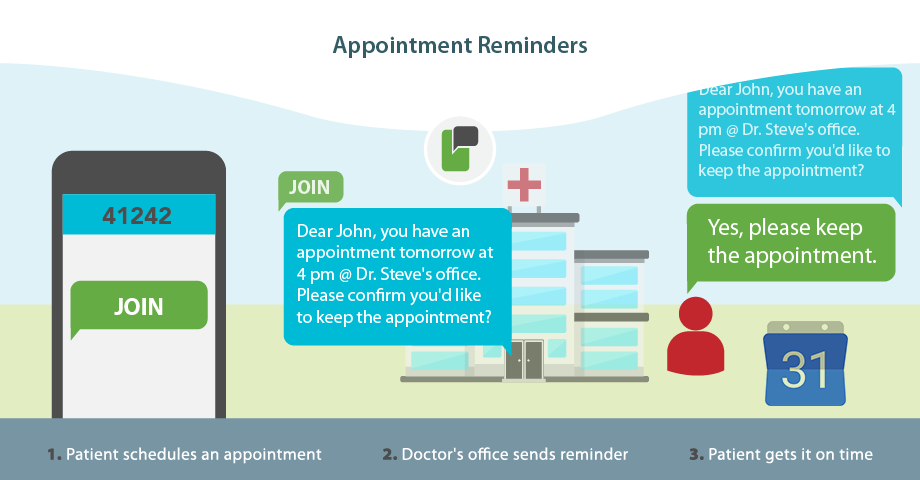 Overview and Benefits - Text Messaging for Doctors' Offices
Doctors' offices and other medical and health-related practices (dentists, chiropractors, veterinarians, acupuncturists, home care givers, etc.) can better engage with patients using text messaging. Technology is an important part of modern medicine, and this applies to communication with patients as well as medical care itself. Everyone with a mobile phone can receive appointment reminders via SMS or MMS! Here are some of the ways that doctors and other medical professionals can improve their practices with SMS.
Through our work with Medical Practices we have discovered several important benefits of text message marketing:
Engage your Patients - Get patients to provide their mobile numbers with a sign or poster in the waiting room. You can also request this on the paperwork a new patient is required to fill out or simply have the receptionist ask for this.
Appointment reminder services for doctors via SMS and MMS - Use text messages to remind patients about upcoming appointments. This will decrease the pervasive problem of no-shows.
Increase patient visits - Send out text message reminders when patients (or their children or pets) are due for a visit, whether it's a teeth cleaning, blood pressure check or vaccinations.
Nurture patient relationships - Text patients with useful health tips. This is helpful for patients while also serving as a reminder for them to make an appointment for any issues.
Send Out Mobile Surveys - Send out SMS surveys to learn about your patients' needs and to learn about areas you may need to improve.
Google Calendar Integration Sync your Google calendars with ProTexting and automatically schedule text message appointment reminders. Patients will receive the reminder SMS alert before the appointment. They can reschedule or confirm via 2-way messaging, accessed in the Inbox.
Our team of SMS marketing experts will guide you through the process of obtaining toll-free number, local long code or dedicated short code number. Your medical practice's text messaging channel needs to be setup properly from the beginning. If you have questions or need an advise on how to setup SMS communications and alerts for your doctor's office, please contact tour team.
---
Additional Features
* no commitments, risk-free, instant access
---