| | |
| --- | --- |
| Import Contacts for Text Messaging Campaigns | |
The ability to easily import contacts for your text marketing campaigns and sync your data with third-party software is a standard feature included with all accounts. You can import your contacts via copy and paste or drop/select file. Keep in mind that you need permission from all your contacts to send them text messages.

The ability to import contacts from email marketing platforms, and other services you use can help you get more out of your SMS campaigns. The process is simple.
How to Import Contacts
ProTexting provides integration with Zapier, MailChimp, Constant Contact, VerticalResponse, and many other third-party apps and services via Zapier.
Simply select and map the fields to match the data.
Coupon codes can be created for many purposes. They can provide a discount on products, 2-for-1 offer, free shipping, a discount on future orders, etc.
We also provide a RESTful API for contacts management so you can add, edit, and delete contacts and groups.
Once contacts are added, you can start managing your SMS campaigns. Opt-in consent must be in place for all contacts to ensure compliance with anti-spam and privacy laws.
If you need help at any stage of the process, one of our account managers will walk you through it.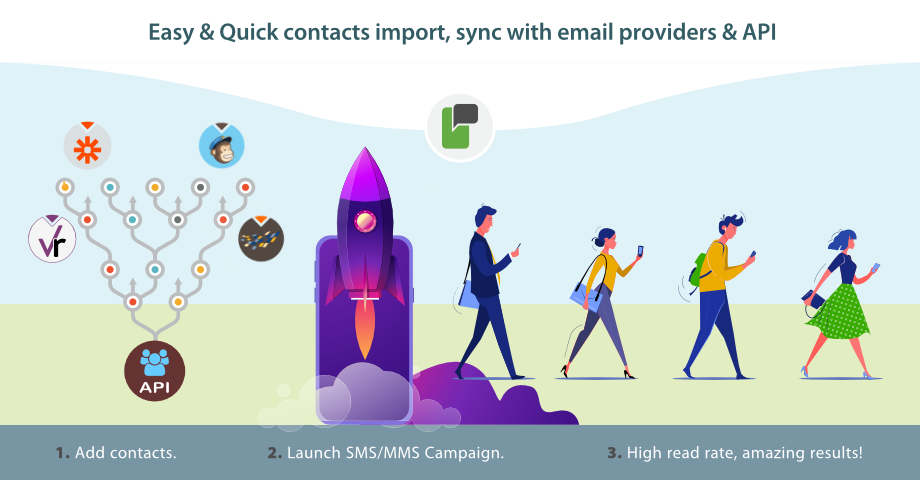 Getting Permission from Contacts
You always need permission before you can send text messages. Research indicates that many customers welcome the chance to get offers, promo codes, invitations, and relevant news about products and services they're interested in. You can get permission in several ways. Ask contacts to text a keyword, have them fill out an online form, or sign a form in person if you're interacting with customers face-to-face.
Advantages of Importing Contacts
Your existing contacts already know you and will be more responsive to your SMS campaigns. If you have contacts from an email list, for example, consider the advantages of being able to send them text messages as well. Open and read rates are significantly higher for text messages compared to email. 98% and above for SMS and about 25% for email. It can be very profitable to be able to contact your contacts via SMS or MMS. It's always good to be able to engage with customers on multiple channels.

You also have the option of requesting more information from contacts (in addition to their mobile number). Depending on your needs, you could ask them for their location, interests, line of work, and other data that helps you target your campaigns more effectively.
* no commitments, risk-free, instant access