Our clients often build large databases of phone numbers. As your list grows, it gets more challenging to keep track of all your numbers, make sure they are valid, and to identify important information about them. One useful feature provided to all our clients is carrier lookup, allowing you to look up any number worldwide. You can instantly find out if a number is valid, whether its a landline or mobile number, and other data. This way, by having only valid numbers, your text message campaigns will be more effective.
Getting information on numbers can help you improve your SMS campaigns in a number of ways.
Make sure you're only sending messages to mobile numbers. Some customers might list landline numbers when filling out forms.
Avoid sending text messages to invalid numbers, such as numbers that are expired or reassigned to another person or business.
Text conversations for customer service can be easily referenced, unlike a voice call. The customer can go back and review important information.
Reduce the cost of your SMS marketing campaigns. Sending messages to invalid numbers wastes your budget. When you can check numbers, you can improve your delivery success rate.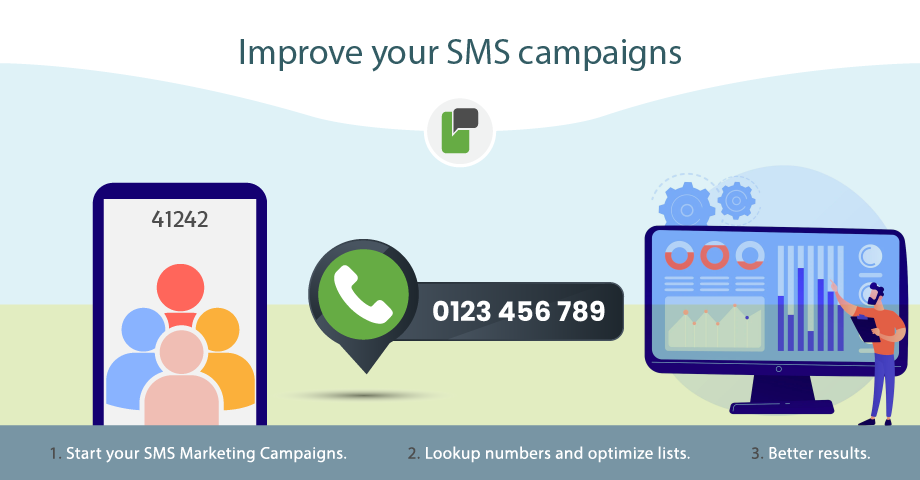 Carrier Lookup is Easy to Use
Our carrier lookup service is a fast, easy to use tool to improve the accuracy of user data. You can enter numbers manually or import them in bulk from a CSV file. Simply select the country you are searching and enter the number. You'll instantly get data such as carrier and number type (i.e. landline or mobile). You'll also be able to identify invalid numbers so you can remove them from your database.
Carrier Lookup Provides Numerous Benefits
Carrier lookup for SMS lists is a simple yet powerful tool that provides several advantages. You can keep your database accurate and updated. Avoid the cost and inconvenience of having invalid numbers. Most SMS plans charge by volume of messages sent, so any waste drains your budget. You can also better target campaigns. Carrier lookup lets you see city, state, and other location based data for a number, making it easier to run local or other campaigns that are targeted by location.
Carrier lookup is just one of the features ProTexting provides to help clients create profitable text messaging campaigns. You can boost your mobile campaigns with any of these apps:
Text-to-Win (Sweepstakes)
Two-Way Messaging
Email Capture
Name Capture
Double Opt-in
API -Short Codes and Long Numbers Management
Web Signup Tools