All of ProTexting features allow you to leverage the 2 way messaging technology, for both SMS and MMS. You can manage your messages through the web, in your inbox, by logging in to the ProTexting platform or by using our user-friendly Phone application (iOS and Android).
What is 2 way text messaging?
2-Way-Messaging involves sending a message to a short code and receiving a reply back. For example, if you text the word "INFO" to "41242" you will receive a reply back with ProTexting information. In this case the short code is "41242" and the reply has been customized to provide explanation about ProTexting. The account owner has the ability to edit/change the reply as needed. Also, if you need to continue the communication with the person who texted in, you can simply reply to any of the SMS in your inbox. This features gives full control over the communication with everyone texting you keywords.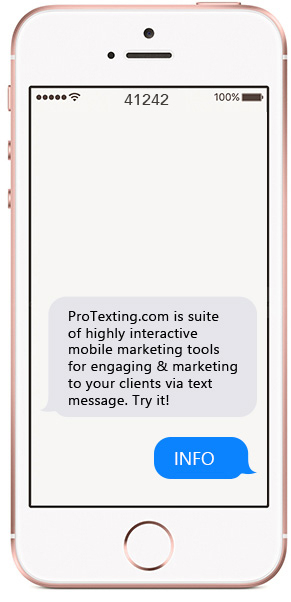 Below are some of ProTexting features you are able to leverage using the 2-Way-Messaging
View ALL features here »
* no commitments, risk-free, instant access