Learn How To Make Texting Even More Fun And Exciting For Your Participants
Persuading people to give you their cell phone number with a great offer requires good marketing know-how to craft an offer that is perceived to be of high value, and then finding as many ways as you can to get it seen by as any customers and prospects as possible. Even though you will get a great response, it can be improved under the right circumstances.
Once again, technology is your friend. Another means of utilizing the mobile phone's amazing capabilities is a neat application called Text 4 Feedback, with easy to use mobile dashboard to control the campaign on the go.
This is one of the most amazing ways to collect customers' feedback and opinion. It is done in a fast and proper way so that your business venue gets the feedback as soon as possible.
This is how it works:
People text in a specific keyword to your business to one of our short codes (for ex: 41242). The participants will receive back instructions on how to text in their feedback. All is recorded in your ProTexting account (securely). Also, their phone numbers are captured in your database for marketing campaigns and notifications, after their consent is given via our single or double opt-ins methods. By having all of those contacts in one single account, you will be able to run several different campaigns later, to better engage your audience. Checkout some of our really nice SMS marketing apps and features here »
Another app, Text-to-Screen works almost the same way with one big difference. Instead of offering them some incentive to give a feedback, you offer them the opportunity to send a personal message to the huge screen up on the stage where it will be displayed for everyone to see. When they respond, their number is captured and their message appears on the screen.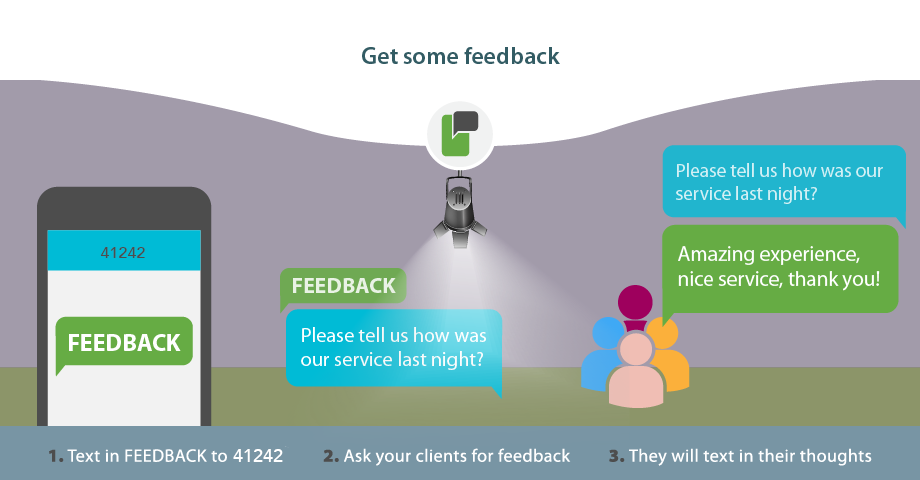 This is a list of some industries already utilizing Text 4 Feedback:
Event Industry
Entertainment Companies
TV Stations
Sport Stadiums
Concerts
Nightclubs
Bars
Parties
Trade Shows
Political Rallies
Large Public Events
What are the benefits?
Live interaction with your audience
Live chat among the audience members themselves
Build a database of numbers for future campaigns
Collect consumer data
Sell advertising space on the screen
Further engage your audience and boost your brand recognition.
* no commitments, risk-free, instant access