How To Make Texting Even More Fun And Exciting For The Participants
The key to any successful marketing tool is to captivate your participants and make them coming back for more. Text-To-Screen gives your participants the opportunity to send a personal message to a big screen that can be displayed for everyone to see.
ProTexting Text-To-Screen application is also a great tool to keep you audience engaged and interested. This app allows you to display questions, answers and comments on the screens such as wide screen TV during conference, JumboTrom during a ball game, project on the screen during a church event etc.
Combined with other applications such as Survey/Voting, Trivia questions, Mobile Contest etc., this guarantees a viral spread of user participation, engagement and fun. Participants can reply or comment by sending a message to your KEYWORD via the ShortCode. The message is then displayed on the big screen instantaneously or upon your approval. When participants respond, their phone number is added to your contacts list.
Benefits of Text-to-Screen:
Increase audience participation through live interaction
Increase your brand recognition
Increase your user base
Sell advertising space on the screen
Keep your audience involved with Text-To-Screen by displaying questions/comments/answers on a TV screen, JumboTron, public website etc.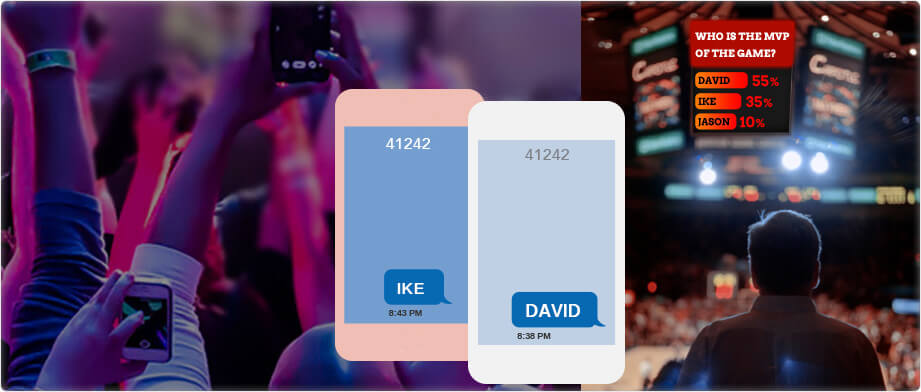 Some ideas on who can use it:
Convention and Conference Centers
Entertainment Companies
TV Stations: Allow viewers to send comments that appear in a scroll across the screen.
Sports Arenas
Concerts: Ask the audience to vote for the next song. Give them 3 to choose from, and watch the madness on the large screen. You see the results in the control panel and pick the winner.
Restaurants: Have everyone send Happy Birthday to someone who's having a birthday dinner.
Bars and Nightclubs: Hold live Trivia games with prizes. All the answers show up on your TV screen.
Trade Shows
Political Rallies
Religious Institutions
Summits: attendees could text a short code with a question for the speaker during a question and answer session. The question will show up on a large screen. The screen can be custom branded with the company's logo and colors.
* no commitments, risk-free, instant access