Retain Customers With the ProTexting SMS Loyalty Program
Do you need a customer loyalty program to grow loyal clients and boost your revenue? Implementing Text Messaging Loyalty program is the answer to a successful campaign to build your brand and have your clients coming back to your venue. With the growth of mobile phone usage, SMS loyalty programs have become one of the most successful and easy to implement marketing channels. Customer retention is one of the biggest challenges faced by businesses of all kinds. How can you encourage customers to come back? ProTexting has created a new solution with our Mobile Loyalty Program.
Your clients will simply need to text in a keyword to join your loyalty program, and start receiving rewards immediately after that. Upon joining the program, your employees will be able to check-in all customers, by just asking for their phone numbers. After your loyal clients collect enough check-ins, they will be able to get rewards – FREE coffee, pizza, tickets, etc.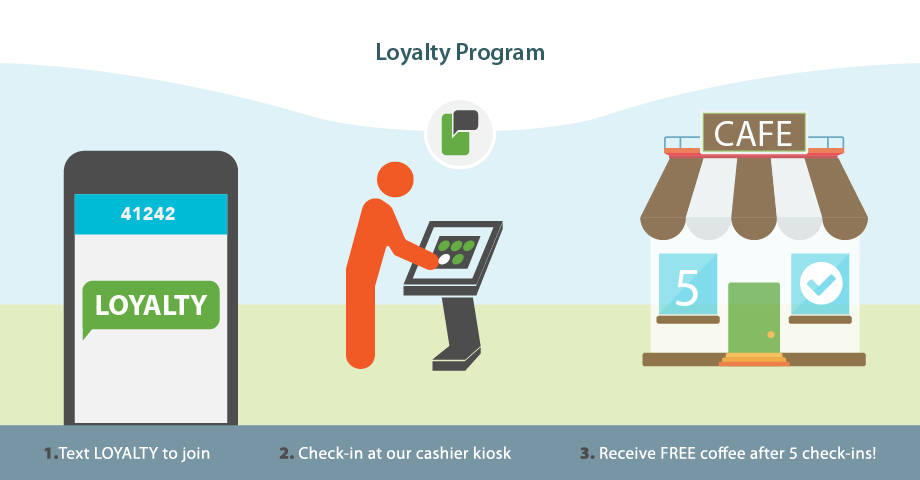 ProTexting has developed an easy and affordable SMS Loyalty program. By signing up, and adding the loyalty app, you will be able to:
Instant campaign activation.
Easy, quick and flexible set up.
Promote your SMS keyword, and start building loyal clients.
Increase repeat customers and boost your revenue.
Real-time reporting and amazing support!
The ProTexting SMS Loyalty Program is Your Solution to Retain More Customers
Our Mobile Loyalty Program is different from your typical rewards program where you need to issue a card to customers. We've developed a digital age program designed for the way your customers live today.
Completely mobile and digital. No need for customers to remember to carry around cards. They can register for the program and claim rewards using mobile phones. Customers check-in themselves, saving time for your employees and reducing lines.
Can be customized to your type of business and for a wide variety of campaigns. Whether you own a restaurant, salon, boutique, medical practice, or any other type of business you can motivate customers to return more often.
Send out reward alerts so customers remember to claim benefits. One problem with typical loyalty programs is that customers forget to cash in their rewards, defeating the whole purpose. With automated reminders, you don't have this issue.
Send messages and rewards on holidays and customers' birthdays.
Send messages, coupons, and rewards via text or MMS.
Track loyalty and create messages based on customer response. Send reminders to customers who haven't stopped in recently.
If you want to reach today's customers, you need to connect with them on their mobile phones, where they spend so much of their time. Find out more on how the ProTexting Loyalty Program will help you motivate your customers to return again and again.
* no commitments, risk-free, instant access