| | |
| --- | --- |
| TEXT ME Button, Text Message Customer Support | |
The SMS " TEXT ME" button is a simple but very useful feature that makes it easy for your website visitors to send you a text message. This button can be placed on any part of your website to encourage people to contact you via SMS.
How the TEXT ME Button Enhances Your Website
The more ways you give customers and prospects to contact you, the better. Some people may prefer to call you, others may send you an email. If you have online chat, they can use that. However, many people today prefer to text businesses for support or to ask a question about a product. Here's a summary of why the TEXT ME button is a great benefit to your website and business.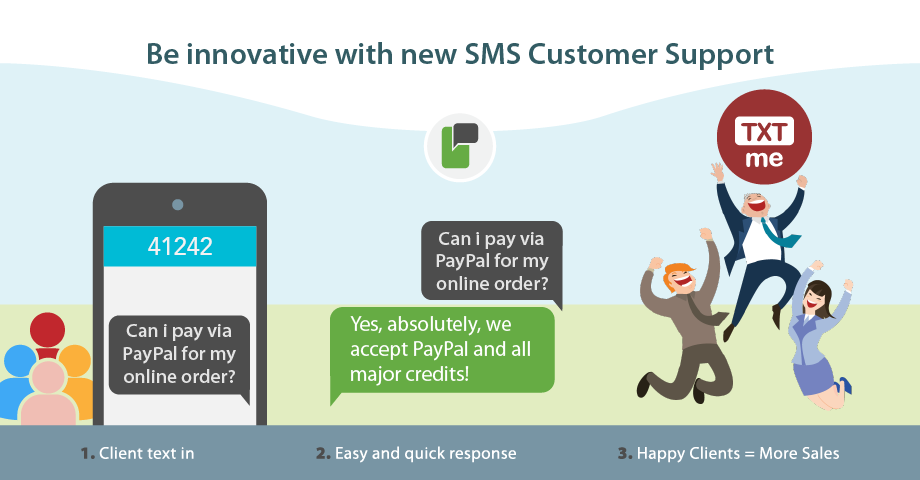 Texting is often the fastest and most convenient way for customers to reach out to your business. People who may not want to bother to email or call you may shoot you a quick text.
Texting provides people with more privacy than voice calls. If someone is in a public place, they may not want to provide information that others can overhear. Texting keeps the conversation confidential.
Text conversations for customer service can be easily referenced, unlike a voice call. The customer can go back and review important information.
The TEXT ME Button lets your customers text you without your number appearing on the screen. This will cut down on spam and anyone harvesting numbers. For even more security, you can have customers fill out a Captcha to text you.
The TEXT ME button is perfect for your mobile customers, who are accessing your website from their phones. It can increase SMS engagement, as they can contact you by pressing a few buttons.
You can easily integrate the TEXT ME Button into your Contact form. You can offer customers and website visitors as many ways as you want to get in touch with you. You can have a form for sending email, a phone number, and a TEXT ME button. This lets people choose the method that's most convenient.
Why ProTexting?
Text messaging has become a major part of any marketing plan. It is personal, messages are read within minutes, and audience actions can happen within hours. Choosing the right platform is essential to be able to deliver the messages at the right time. ProTexting offers a great way to manage all of our text messaging campaigns (both SMS and MMS) via the following features:
Send your message immediately or schedule it for future time & date.
Sending the same message periodically? Great – now you can take advantage of our recurring scheduling. Set the message and end date, and just leave it on autopilot, while you focus on other parts of your business.
Track the performance in REAL TIME. We do provide real time delivery status so that you can evaluate who and when received your message.
Send a plain text message, videos, photos, or audio recordings – we support all formats.
Use our short URL to track ALL clicks – by time, date, city, state, etc. Short URL app is included free in all accounts.
Add your social media channels, and post your message there as well – at the time of the campaign for maximum results.
Receive replies in your ProTexting SMS inbox and you can forward them to your email/s or mobile number/s
In case someone wants to be removed (nobody wants that, but it happens sometimes), we automatically handle the request and ensure that you will not be sending any more messages to the recipient.
Our platform can handle a huge throughput - hundreds of text messages per second, to guarantee that your campaign is delivered on time.
* no commitments, risk-free, instant access