Questions? We have answers.
How to setup Shopify Text Message Notifications, Order Status SMS Alerts

• First, login to your SMS marketing dashboard.

Go to apps and then click on all apps. Find Shopify integration in your list of active apps. Click on the shopify app store link.
In the app store, in the search field type in "protexting". From the search results page, you can simply and quickly add the ProTexting Shopify App.

• Another way to add the app is through the store's dashboard:

Click on apps and then click on "visit the Shopify App store." On the Shopify App Store search for ProTexting. Click on ProTexting and then on the button "add app".
There will be a confirmation page and then click on "Install app". On next page, you will need to review the billing information and confirm the free trial to add the app.
Click on the button "Start Free Trial" and wait for the confirmation page. In a few seconds the app will be installed in your online store.
On your dashboard you will be able to quickly access the inbox, contacts and sent messages.

Now, you can setup the automated SMS order notifications for new orders and change of order status.
To change the automated text message notifications, click on settings. In this section you will be able to modify the messaging templates by clicking on "edit."

We recommend to insert dynamic data tags so that all outgoing text messages are personalized.
Under order events you can specify for what orders status to send out sms notifications. All notifications are sent automatically when there is an order status change. There is an option to receive a copy of all outgoing SMS notifications.
You can add your mobile number in store manager phone field.

ProTexting offers a wide range of text message marketing features. To take advantage of it, click on "explore more texting features" and you will be automatically logged in your ProTexting dashboard.
In ProTexting you will be able to set up group text message campaigns, SMS keywords to grow your subscribers, drip campaigns, voting, surveys, integration with Zapier and Amazon, etc
All of your Shopify customers will be automatically added in group Shopify Customers.

If you'd like to upgrade your messaging plan, go to the Shopify App dashboard and click on upgrade.
You can pick other plan that will fit your current messaging needs. In case you need a custom plan, contact our team so we can accommodate your messaging needs>

Please watch our other videos on how to setup text messaging marketing campaigns and easily integrate with amazon sellers central if you are selling on amazon.

As always, if you have any questions or need help, contact our support team. We are ready to assist.
How to setup Shopify Text Alerts sent to customers when an order status is changed?
You can login to your Shopify store admin >> go to Apps >> Then click on the app "ProTexting SMS Notifications" and then, within the app, click on "Settings (SMS Notifications)".
In this section, you will be able specify on what order status change to send a text message alert.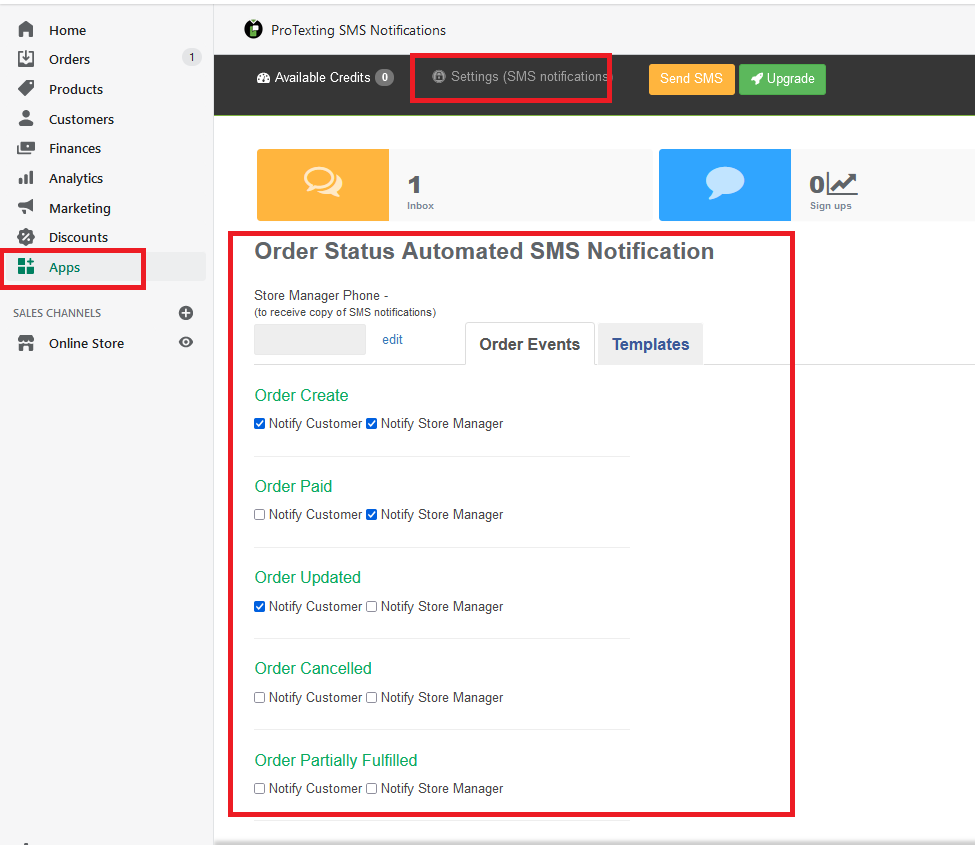 Total votes:

0
0
Related text messaging apps
---
Feedback
Please share your feedback with us so we can improve our "Learning Center"