Our text message (SMS and MMS) forwarding feature is one of our many tools that help you engage faster with your customers and prospects. People are now accustomed to sending out texts when they want to communicate rather than making a call or sending an email. Forwarding SMS messages to email or a mobile number makes you more reachable. The app also lets you control which messages you forward so you'll never miss one from an important client or on a critical issue.
You can now forward any text messages you receive in your mobile inbox to your email or any mobile phone number. This is great for staying on top of activity when you're not logged into your device or computer. There are many advantages to forwarding your messages.
Helps you get important messages from customers or prospects so you can respond promptly.
Forward relevant messages on certain topics to team members working on that project.
Focus on the most important and relevant messages with filtering options.
Flexible options allow you to forward messages to email or any mobile number. This ensures you see important messages no matter where you are or what device you're on.
How Text Message Forwarding Works
It's simple to set up text message forwarding.
You click on "Add Email" or "Add Number," depending on whether you want to forward messages to an email or mobile number.
Add multiple emails and phone numbers.
You'll receive a confirmation code, either via email or mobile. You'll then be able to turn forwarding on and off whenever you want.
Forwarding filters let you decide which messages to forward. You can instruct the system to filter out messages with certain keywords or from certain emails or numbers.
Customize messages with your company name or any info you'd like to include. This is useful if you're managing campaigns for clients.
Messaging history gives you access to all of your forwarded SMS/MMS messages. You can search through these by date, number, email, or message content. This list can be exported as well.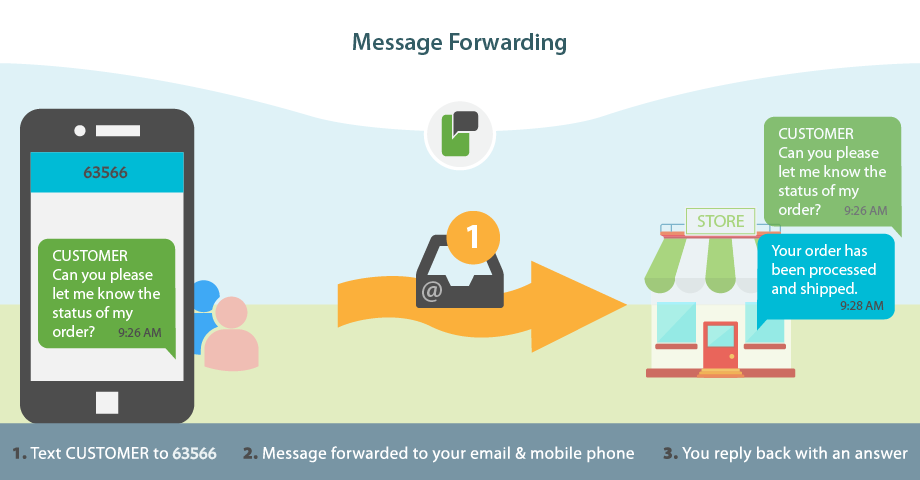 * no commitments, risk-free, instant access