| | |
| --- | --- |
| Birthdate Capture for SMS Marketing | |
Birthdate capture lets you collect date of birth information for your subscribers. They are prompted via SMS or MMS to reply with their date of birth. This is useful for sending out birthday greetings along with special gifts, coupons, and promotions. This feature is particularly powerful if used together with the "Birthday Wishes" app which send out messages automatically on the birthday of the subscriber. Sending personalized birthday greetings shows your customers how much you appreciate them. It's also helpful for market research as it lets you know the age of your customers.
Read More On How Birthday Capture Can Boost SMS Campaigns Results
Everyone enjoys getting a special greeting on their birthday. When you can include a gift or discount, it will really brighten their day.
How Does Birthdate Capture Work?
You prompt your clients to text a keyword along with their birthdate in MM/DD/YYYY format.
Your subscribers then text their keyword and their birthdate, leaving a space between the keyword and DOB.
Sample text message: "JOIN 6/15/82" where the mobile keyword is JOIN.
As long as the app is on and active, the date of birth request can be anywhere in the message. If the system detects a match for MM/DD/YYYY in any incoming SMS or MMS text, it will automatically update with the contact's birthdate info.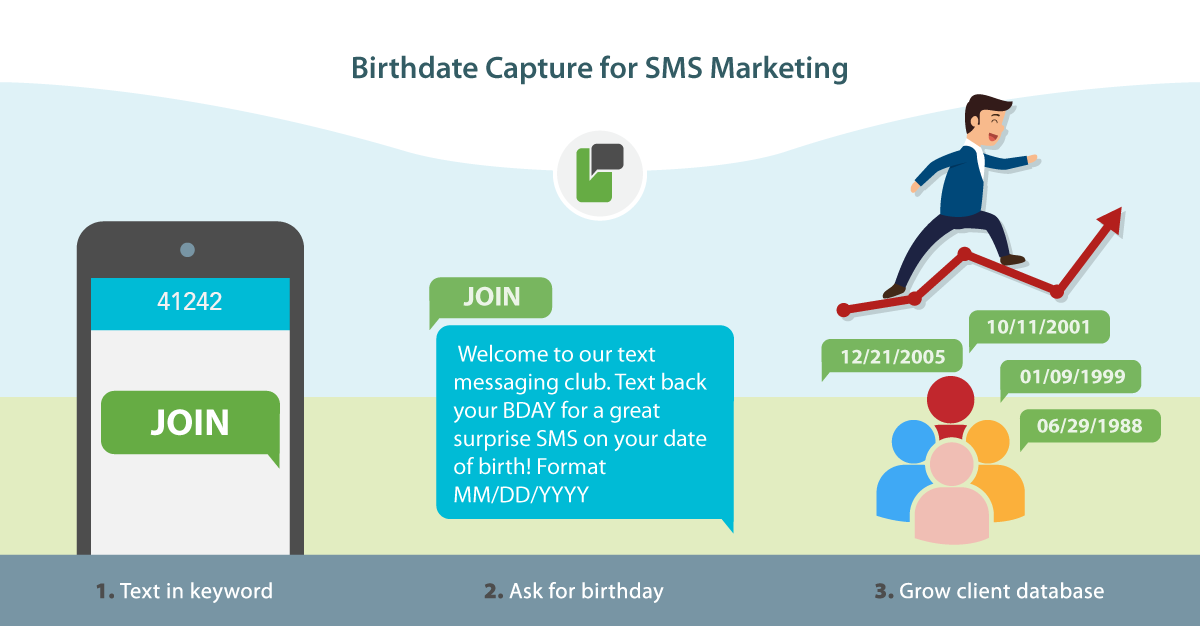 How Can Birthdate Capture Be Used?
It's very useful for any type of business to have your customers' birthdates. You can send more targeted texts and gather more detailed data. Here are some of the ways you can use this information:
Text birthday greetings to let your customers know you appreciate them. Couple this with the automated Birthday Wishes App.
Send gifts such as text message coupons or promo codes for birthdays. For example, a restaurant can offer a free entree, a salon a free treatment. For costlier items, you could offer a 20% discount or whatever is appropriate.
Learn more about your customers. You may create segmented lists or create special promotions based on certain criteria.
Once you have a customer's DOB, you can use it for other types of campaigns such as email and social media.
Birthdate Capture is
one of many ProTexting SMS marketing features
that helps you learn more about your customers and provide them with personalized attention. You can use this along with other apps to create stronger relationships with your customers.
* no commitments, risk-free, instant access