The "Keyword Sequence" app gives you the ability to run multiple campaigns with a single keyword.
Overview and Benefits
Your subscribers/customers text in one keyword, such as JOIN. You can then connect up to 2 additional keywords to be triggered to activate any ProTexting app/campaign.
It's up to you when these additional keywords are triggered. This can be minutes, hours, or days after the first keyword is sent.
Clients who want to run multiple campaigns in sequence don't have to text keywords in for the 2nd and 3rd campaign.
Perfect for DRIP campaigns and autoresponders. Our "Drip Campaign" app lets you set up a series of messages and send them out according to your schedule using an email service or autoresponder. With the Sequence App, you can now set up these campaigns with up to 3 keywords.
This app gives you more flexibility as you can set several campaigns in motion by one keyword texted in by your subscribers. Suppose, for example, that your subscriber initially texts in the keyword JOIN, which sets into motion a certain campaign. You may also want to trigger 2 other campaigns, such as SALE and EVENT. You can now have these set into motion without any additional action needed from your subscriber.
The "Keyword Sequence" app is another feature that helps you get results with less time and effort. It also works seamlessly with other ProTexting apps, letting you trigger any type of campaign with additional keywords.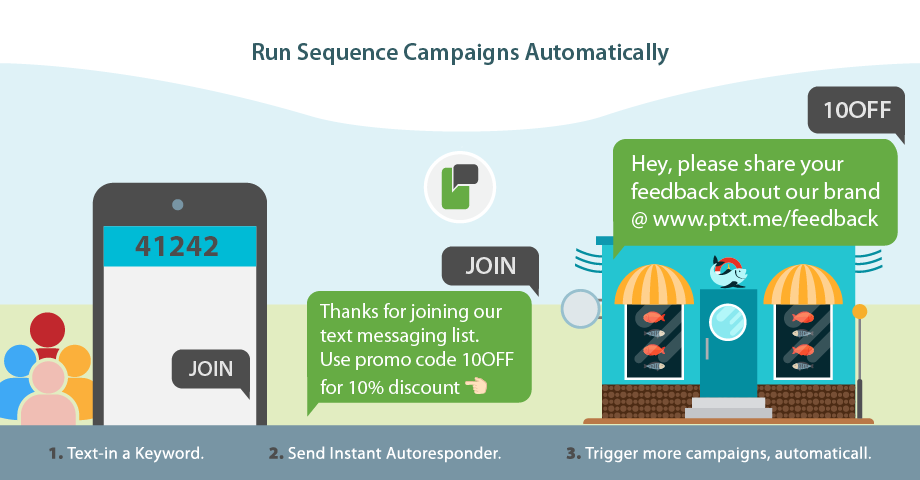 * no commitments, risk-free, instant access