| | |
| --- | --- |
| Increase Attendance with SMS Marketing for Comedy and Night Clubs | |

Overview and Benefits
With so many people carrying their mobile phones with them 24-hours a day - text message marketing is a hugely effective way to promote nightclubs, lounges, and comedy clubs. Because every message sent is read by the recipient - it's a great way to get your message across!
"SMS marketing works better than all other marketing channels combined" - The Improv Comedy Club.
Through our work with Comedy Clubs, Lounges and Nightclubs, we have discovered several important benefits of text message marketing:
Send Invites to Mobile Phones - Collect numbers either by incoming texts from printed materials or at your venue, and then send out direct marketing campaigns to your clients' mobile phones at any time.
Special Drinks Offers - Send free and discounted drink offers at any time, directly to your customers to encourage regular spending and create loyalty.
Discounted Cover charges - Everyone wants to feel special. Offer discounts to your clients and make their decision to come to your event or place easier.
VIP - Save time on VIP phone calls - now these can be automated by text message.
Queue Jumping Invites- Text queue jumper tickets directly to mobile phones. Recipients show their phone with the text message showing on the screen to the doorman, and get in.
Learn How The Improv Comedy Club
generated 986% ROI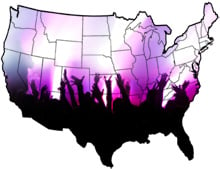 The south Florida Group currently operates five of the nations top comedy venues. On any given week over thirty five shows are produced with a combined seating capacity of over sixteen thousand that need to be filled. Currently we employ multiple marketing strategies to maximize attendance traditional media such as print, radio and billboards, outbound marketing via telephone, email blasts, social media and text messaging.
---
Comedy and Night Clubs have also benefited from bundling these additional features
* no commitments, risk-free, instant access