| | |
| --- | --- |
| Increase Ticket Sales and Fan Engagement with SMS and MMS for Your Sports Team. | |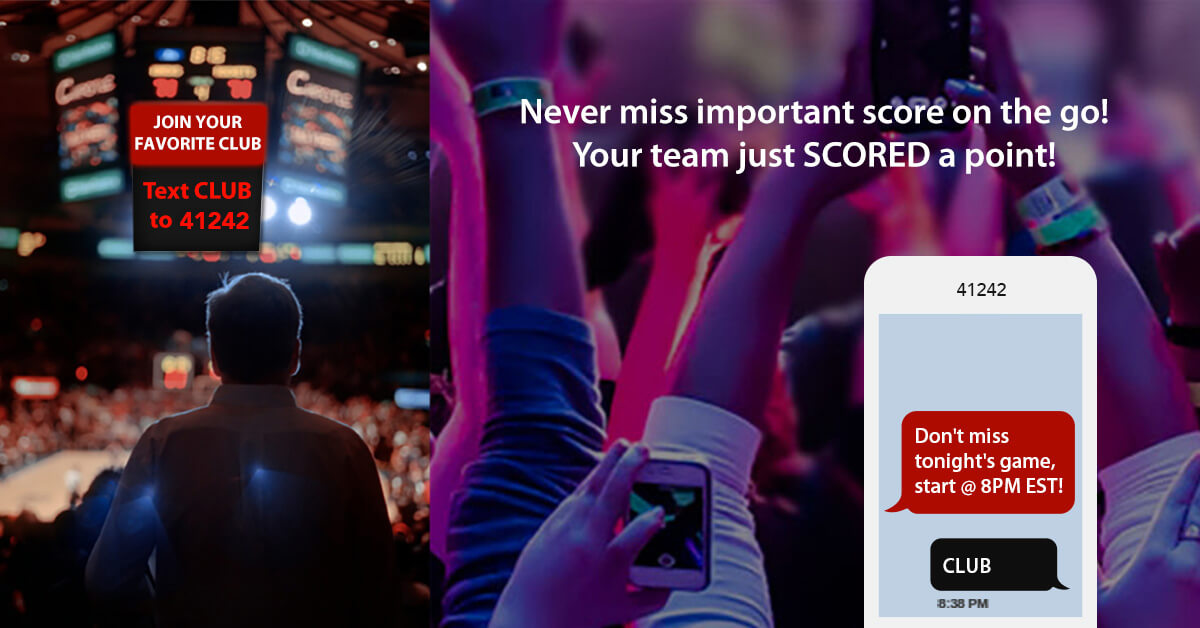 Overview and Benefits
The sports and entertainment industries are both rapidly growing but also extremely competitive. To succeed in these fields, you need an efficient way to reach your customers to let them know about upcoming sales and events. For this purpose, nothing compares to text messages. Both sports enthusiasts and people who attend concerts, movies and other entertainment events, tend to be fast-paced and spontaneous, making SMS the ideal way to reach them. Everyone with a mobile phone can text in to participate via SMS or MMS! Here are just a few of the ways you can build your business faster with text message marketing.
Through our work with Sports Team and the Entertainment Industry we have discovered several important benefits of text message marketing:
Get more people in the seats - Improve attendance to sporting events, concerts, movie openings, film and music festivals and other events by spreading the word via text.
Engage through Text-to-Win contests - Hold contests where you give away products or tickets to your events. People will be glad for the opportunity to win tickets to a sporting event, concert or other special event. With a widget, people can enter your contest from your website or Facebook page.
Build a Text Club list build lists to inform customers about upcoming events. This is a more effective option nowadays than using an email list, as people are more likely to open and read text messages.
Sell more merchandise and tickets - Hold promotions during concerts, sporting events and other events. Invite audience members to text a keyword to a shortcode to enter a contest or purchase merchandise such as t-shirts, albums, or tickets to future events.
Promote new season packages and products - Introduce a new season package or product or line, such as sportswear, equipment or fan-related items via text. Member of your list can pre-order, get a discount and be the first to buy these new items.
Text Messaging makes team communication in sports better and more organized. Coaches in all sports take advantage of SMS communication by texting their teams at all times. Schedule practice, ask for volunteers, payment reminders, team alerts via photos and videos, etc.
Some of the Sports Teams and Leagues who have worked with ProTexting:

---
Sports Teams and Coaches have also benefited from bundling these additional features
* no commitments, risk-free, instant access