Mobile Messaging pricing in Germany
Starter
Instant access to a
Local Number FREE
apps included Emojis enabled
Economy
Instant access to a
Local Number FREE
apps included Emojis enabled
Business
Instant access to a
Local Number FREE
apps included Emojis enabled
Local Long Code Numbers Available in Germany
---
All Plans Include Toll Free Number, MMS, Emoji, Track-able Short URLs, Landing pages, SMS engaging Apps and the Following:
Free Unlimited Sign Ups
Free Unlimited Incoming Messages / Replies
Unlimited Groups to Organize Contact
Change Your Mobile Keywords at Any Time
Sign up forms
No Contracts, No Setup Fees
Unlimited Email & Phone Support
Secured Data and Daily Backups
Extended Education Center
Port your business number and enable texting
Custom Plans and Larger Packages available upon request
If you don't see a plan for your needs simply contact us
Plan FAQs
Is setup free?
Yes, your ProTexting account setup is free and easy. Simply pick your plan, create your account and as soon as you create an account with ProTexting you have access to our rich platform. You will have immediate access to a short code and ready to set your keyword.
What is a keyword?
A keyword is a single word phrase that can contain letters or numbers. A keyword interacts with the short code so participants can text in and join/opt in to a particular program for future alerts and promotions. Here is an example:
Text INFO to 41242
. INFO in this case is the keyword, and 41242 is the short code. When you text that particular keyword you will receive our customized Auto-reply Message.
Free incoming Messages?
Any incoming messages are free and are not counted towards the messages included in your plan. Your plan only refers to outgoing messages. If you send a group text message to 100 phone numbers that equals to 100 outgoing text message from your plan.
How can I get support?
We are always here for you. You can call our support line and speak directly with one of our SMS marketing specialists. Also, you can e-mail us at . We will help you in every step of your campaign. Also, you can check out our
FAQs page
, and the
Learning Center
within your ProTexting account.
What happens if I go over my messages?
The Early Auto-Renewal feature ensures that your campaigns and mobile sign up messages are always delivered even if you are running low on credits. When Early Auto-Renewal is ON the system follows the level of available credits at all times. When your credit line falls under 10% of the package available credits, the system will automatically renew your package, load the same number of credits and charge you the same monthly plan. The only change is that the billing date is moved to the date the new charge occurred.
Unlimited Contacts and Groups
Your contact list can grow over time and there is no maximum on how many contacts you can have. Also, you have the ability to create custom groups and organize your contacts as needed. There is no limitation on the number of groups you can created.
Can I customize the message that goes out to my participants?
Yes, you can customize the message that goes out to your participants when they text in your keyword.
Can I cancel at anytime?
Yes - There is no obligation, or contracts. You can cancel your ProTexting account at anytime from within your account or by sending an e-mail to with your username and Client ID. We always appreciate any feedback you provide us, even if you decide to leave as this helps us improve our platform and services...And when you decide to come back we will always welcome you back with open arms!
---
Enterprise Mobile Marketing Solutions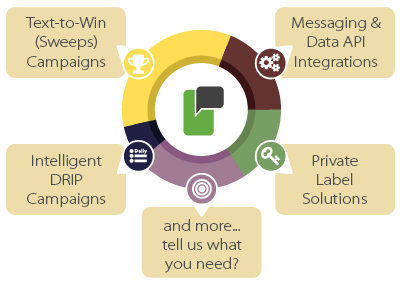 In addition to our self-managed leading mobile marketing platform, our team has been asked more and more about integrating with enterprise level mobile marketing campaigns. ProTexting has created a full range of services and features available to our enterprise clients to help them customize new or existing mobile campaigns using our proprietary gateway and technology.
Campaign-driven SMS Marketing Solutions
---
Text-to-Win: Over 85% participation during live events
Text-to-Vote: 44% up to 80% live audience participation
Text-to Screen: Over 85% live audience participation
Mobile Coupons: 10 times increase of sales from one day to the next
Please contact us for our annual package deals at: Email: support [at] protexting [dot] com or Phone: 1-800-258-9115