| | |
| --- | --- |
| Huggies Easy on Easy off 5-day Challenge | |
The Challenge
This is big. This is game changing. Huggies now has the world's first squirm-proof diaper. Of all the improvements you could make to a diaper, who wouldn't want the whole messy process to become easier? After all, no one looks forward to changing time. Especially when baby starts squirming. Mom and Dad never glance down at a sagging diaper and think, "Alright, let's have some fun!" And when baby kicks, twists and cries, he's sending his own message… "I don't like it either." So let's send a message loud and clear, directed right to squirmy baby Moms… We get the whole "Battle of the Squirm." And now – finally – there's a solution. New Huggies Slip-On Diapers make the whole act of changing easier. Now Mom and baby can literally slip into a more comfortable changing time routine. Simply catch squirmy baby, slip-on, and release. That's it! Baby is free to go about his business of squirming around the house. And he and Mom both have a smile on their face. Because Slip-Ons fit snug and secure every time. No criss-crossed tabs. No exposed cheeks. No loose, swinging and falling off the waist. And taking them off is super easy with the easy open sides. The world of diaper changing just got what every parent's been hoping for – a heck of a lot easier. With new Huggies Slip-On diapers, all Mom and baby have to do is slip right into it.
The Solution
The Easy-on Easy-off 5 day Challenge Anatomy of the Idea:
Encourage squirmy baby mom to take the Easy-on, Easy-off 5 day challenge to experience how easy it is to use Slip-Ons – to take off as well as put on
Make it easy for her to try it and stick with her new routine
Give her the forum to share her success stories and reward her for encouraging other squirmy baby moms to take the challenge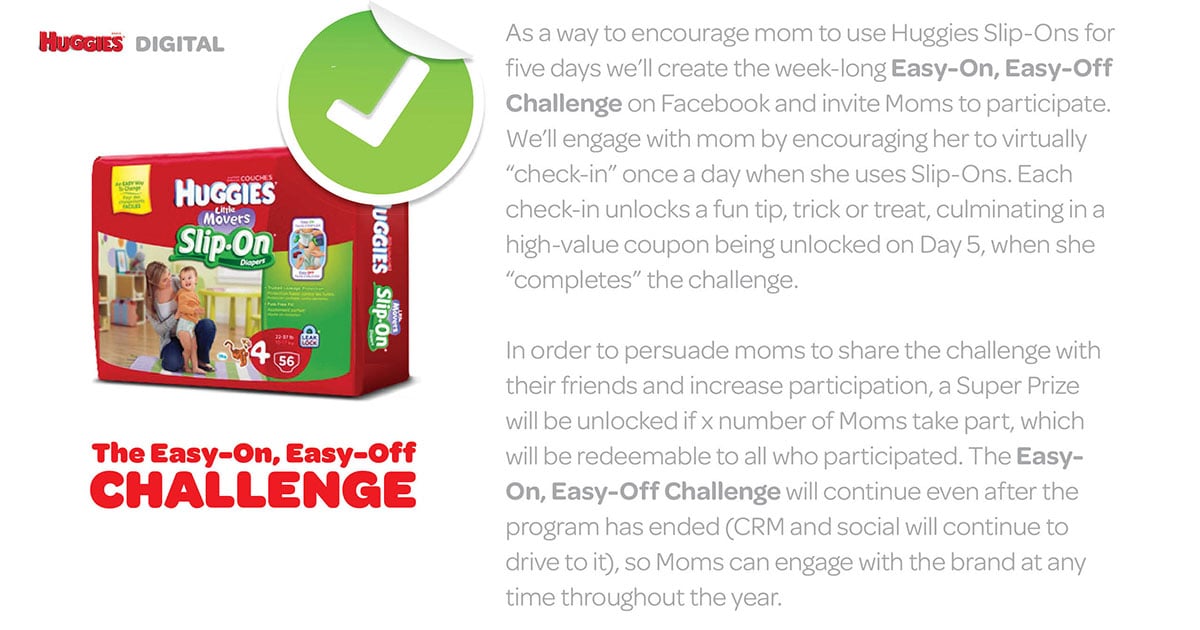 The Results
ProTexting's technology easily integrated into the overall solution. It provided the immediacy needed for delivery and exchange of information. The Ogilvy team was able to track SMS traffic in real time and optimize the technology as needed.
103K check-ins, with 85% via checking in through Facebook (15% via mobile)
August was the most engaging month in terms of visits, check-ins, and shares (each roughly 20% of program total)
After completing the challenge, users were given two options: they could redeem a coupon, or share the site with friends for a higher value coupon instead
Users were willing to share the coupon in order to receive a higher value one, with 42% sharing
In total there were:
18.8K views of $2 coupon; 19.3K prints
13.7K views of $3 coupon; 16.8K prints
About Ogilvy
Ogilvy is the North America agency of record for the Huggies brand.
Happy ProTexting Clients
Don't Miss The Potential of Text Message Marketing in Your Industry!



OR
* no commitments, risk-free, instant access