| | |
| --- | --- |
| Mobile Marketing for Retail | |
Retail Business Plus Text Message Marketing - The Perfect Mix?
As a retail business owner, you know there are only three ways to increase revenue - get your customers to spend more money, get more customers, and raise prices. The first two methods are the most attractive so you put together advertising campaigns, which can be time consuming and expensive.
Our mobile marketing methods offer many cost-effective solutions for putting your message, quite literally, right into the hands of your customers instantly. There's no hoping they'll see your ad in the paper, or open your email. Your message appears as a text message on their cell phone, which they always carry and will almost certainly read.
By using the tools provided by us, you can now invite customers to in-store sales, ask them to participate in surveys, visit your website, or enter a contest. With a little creative thought, you can see that there are many possibilities with this new technology added to your marketing plans.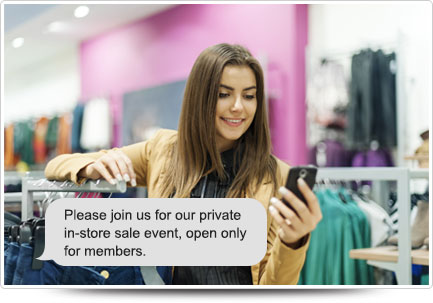 Hold a contest where your customers text your keyword to 41242 to win a big prize right before Christmas
Put displays on your counters inviting customers to join your Exclusive Loyal Customers Club for special offers, coupons, and discounts
Every Wednesday send a "Hump Day" alert with a 10% off coupon
Ask customers to participate in a survey to discover how they like certain services you offer.
Divide your customers into groups by age, location, gender, and send targeted offers
All of these ideas, and many more, are possible with our mobile marketing platform. By taking advantage of Keyword Campaigns, Blasts, Voting/Surveys/Polling, Text2Win, Text2Screen, Text Messaging API, and the detailed reports and analytics provided, you can design hundreds of creative and unique ways to grab your customers' attention and get them involved, interacting, and buying.
Among the many benefits:
Increase sales with your text message promotions
Build a database to be marketed to over and over
Develop valid data to study for improving customer relations
Increase customer loyalty
Improve your advertising ROI
Get more customers
Get customers to spend more
Retail businesses can now reach their customers in seconds! With our mobile marketing platform, you can design targeted campaigns that are delivered immediately, without waiting on a printer. Your promotion ideas can quickly become reality, and you can reap the rewards the same day.
Never before have you been able to enact instant marketing promotions and get instant results by putting your message instantly in front of your customers. And best of all, our software is easy to use, which allows you to create powerful, innovative marketing strategies in a very cost effective way.
Finally, combining the new mobile marketing technology with your current marketing tools will no doubt prove to be a wise decision that will pay for itself over and over in increased revenues.